Test Drive → Book Download
Retirement Held Hostage: How To Rescue Your Retirement From Bad Advice
Foreword written by Jim Stovall, author of New York Times best-selling "The Ultimate Gift" and "Millionaire Map".
Retirement Held Hostage seeks to help you uncover the truth about managing wealth and freeing your retirement from worry.
Click the button below to download your free chapter or attend one of our live events for the opportunity to receive your free copy.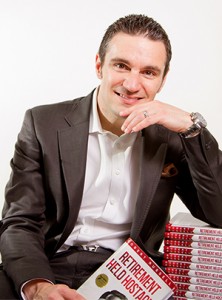 About the Author
Rob Russell believes that Wall Street. and their swarms of advisors have stacked the deck in their favor, not yours, and he's on a mission to change that.
Rob takes to the airwaves every Saturday to co-host "Retirement Rescue Radio" on WHIO 95.7 where he loves to challenge the status quo, expose the truth and drive innovation in the investing world. He is also a featured contributor for Forbes and has authored the Amazon best-selling book, "Retirement Held Hostage."
Due to his expertise, in the financial industry, he has been a frequent guest on CNBC and has guest-hosted shows for FOXBusiness. The Wall Street Journal even profiled Rob and the trademarked investment strategy he uses with the goal to protect clients and create wealth in good and sour markets. Rob's success caught the attention of an Emmy-award-winning movie producer. Together, they created a documentary "Filling the Financial Gap" about Russell's humble beginnings and their eventual rise to the national limelight. This movie won a global Telly Award and was featured nationally on the BIO Channel.
Rob and his wife are life-long residents of Ohio, they have two children. They are huge Disney fans and enjoy cooking and traveling. They help support and are active at Southbrook Church, the Make-A-Wish Foundation, the USO, an orphanage in Honduras and Rob's alma mater, Wright State University School of Business.
"If it is correct that 'You shall know the truth, and the truth shall set you free,' Then is it possible that if you don't know the truth, its absence can place you in bondage?"
- Andy Andrews, New York Times best-selling author of "How Do You Kill Eleven Million People," "The Noticer" and "The Travelers Gift