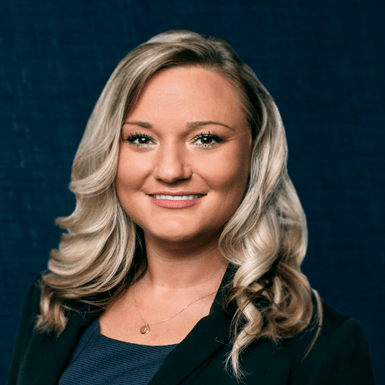 Jennifer Lawson is passionate about everyone who encounters Russell Total Wealth and Wellness having an experience that exceeds their expectations. Her creativity & attention to detail can be felt in many of the unique touches that set our firm apart and raise the bar for others in our industry.
Jennifer takes pride in planning our events and loves the gratification of being present for the journey from initial introductions to witnessing lives being changed for the better by the unique planning provided at RTWW. Jennifer is recharged by the constant growth and opportunities to challenge the status quo presented in being Marketing and Events Coordinator.
If you like tacos and love dogs, you'll get along just fine with Jennifer. Friends would say she works solely to spoil Hannah, her miniature dachshund. (Just ask, she is ALWAYS willing to share photos!) Jennifer's human children earn bragging rights too, both her teenage boys are honor roll students. Older brother Tristan plays baseball and will soon earn his black belt in Shotokan karate. Not-so-little brother Braylan is a talented artist and animal lover like mom – they even volunteer together at the animal shelter near their home outside Urbana. Jennifer and her husband Aaron share the same birthday (also their wedding date!) and enjoy creating & selling custom woodworking pieces in their free time.