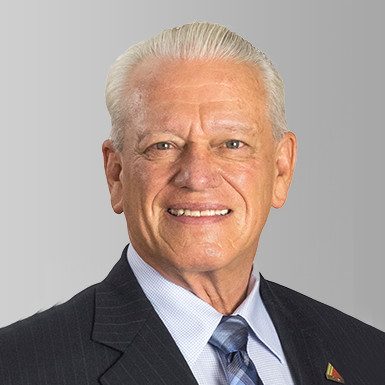 The primary job for Ron Russell is helping new and existing clients find solutions to their retirement-planning challenges. Ron specializes in taxes, general and specific financial planning, trusts and legacy planning. As the firm's founder, Ron now serves as counsel to our team, visiting with clients on a requested basis for about 100 days a year. His son, Rob, joined him as a founder of our firm in 2004.
Ron started his career as an accountant in 1964 and eventually became a Certified Public Accountant in Ohio. Ron also served as a Certified Fraud Examiner, Certified Financial Specialist, forensic examiner, and business evaluation and litigation expert.
As a CPA, Ron used to send his clients to various Wall Street brokers to handle their investments. After two to three years of never hearing from the brokers, he would ask his clients to bring in their investment statements. He was shocked to find that the brokers simply sold products to his clients without considering the tax or estate-planning implications.
Ron thought there had to be a better way. In 1998, he rolled the CPA firm into a publicly traded company to serve as a holistic financial coach and trainer for his clients. He retired from that public company in 2004 to split off and revitalize the financial planning part as a separate company, which now is Russell Total Wealth and Wellness and affiliated entities.
Ron is passionate about helping people win in life. He loves visiting with people, getting to hear their story and what their goals are, and learning about their families. He also loves helping his team grow and increase their value to the firm's client family.
Ron and his wife, Cathy, have been married for over 35 years. They have four children, 10 grandchildren and two great-grandchildren.
Ron and Cathy love to travel and have been to about 85 countries. The couple also loves college basketball, particularly the Wright State Raiders, and enjoy watching the games right from their courtside seats.
Ron's other hobbies include golf, fishing with his daughter and grandkids, and reading.
Ron actively supports Caring Partners International, the USO, St. Jude Children's Research Hospital, Air Force Museum Foundation, Gary Sinise Foundation, Families of Addicts and many more. He's also a longtime member of the Masonic Lodge, Scottish Rites and Antioch Shrine, as well as past president of the Fairborn Chamber of Commerce and Fairborn Rotary Club and is a Hall of Honor inductee for Fairborn High School.